Sania Mirza gives a sharp reply when asked about juggling between career and son; says, 'Aap agar Shoaib Malik ko wo...'
Sania Mirza claps back at a journo in the sharpest manner after she is questioned on juggling between work and motherhood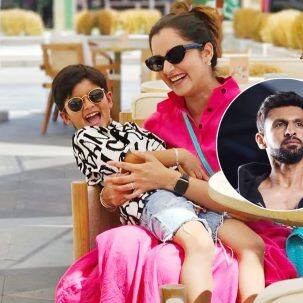 Sania Mirza has been a role model for many young Indian women aspiring to make a career in sports. Of late, there has been a lot of reportage around how things are not hunky dory in her marriage with Shoaib Malik. It was said that the two are filing for divorce. They got married in 2010 and their son was born some years back. News channels went overboard saying that Shoaib Malik's marriage with Sania Mirza ended because of his alleged affair with model and actress Ayesha Omar. She later denied everything saying that she is not a woman who would have a relationship with a married man.
SANIA MIRZA CLAPS BACK AT JOURNO
Sania Mirza was at an event for a FMCG brand. She was asked how she manages to strike a balance between career and motherhood. We know that this question is mostly for female celebs. Hardly any celeb dad is asked this question. She said that once someone asks this question to Shoaib Malik as well, she will reply on the same. She was quoted as saying, "Jaise wo (Shoaib Malik) manage karte hain, waise main manage karti hu. Aap agar Shoaib Malik ko wo sawaal puchenge, to main bhi aapka jawaab de dungi."
WHAT'S WRONG WITH SANIA MIRZA - SHOAIB MALIK
Three months back, we got the news of trouble brewing in the marriage. The shocker was the rumoured infidelity on part of Shoaib Malik. It was said that Ayesha Omar and he grew close after working together on a project. The couple did not say anything. The tennis star celebrated her birthday with close friends Ananya Birla, Farah Khan and her mom but he was not to be seen. He wished her on social media though. Shoaib Malik was also missing from the elite dinner held in Hyderabad after her last retirement game.