Lyon eclipses Warne with magical bowling spell
Nathan Lyon has done something even Shane Warne didn't manage as he put Australia on the doorstep of victory in India.
Nathan Lyon has continued to silence his critics with a terrific display of spin bowling to put Australia within touching distance of winning the third Test against India.
Lyon may not possess the mystery of some of his off-spinning counterparts, namely India's Ravichandran Ashwin, but displayed just how effective his control and subtle variations can be, ripping out eight Indian wickets in the second innings.
The 35-year-old stymied the home side's hopes of posting a daunting fourth innings target, as India was bowled out for 163 in its second dig, leaving Australia needing just 76 runs in its second innings win the third Test.
AS IT HAPPENED: Australia vs India third Test Day Two
READ MORE: India slammed over Test debacle
READ MORE: Legend's 58-year feat inspiring NRL newbies
Lyon finished with 8-64 in 23.3 overs as he put a stranglehold on every single one of India's batters. Six of his eight wickets came without the assistance of a fielder.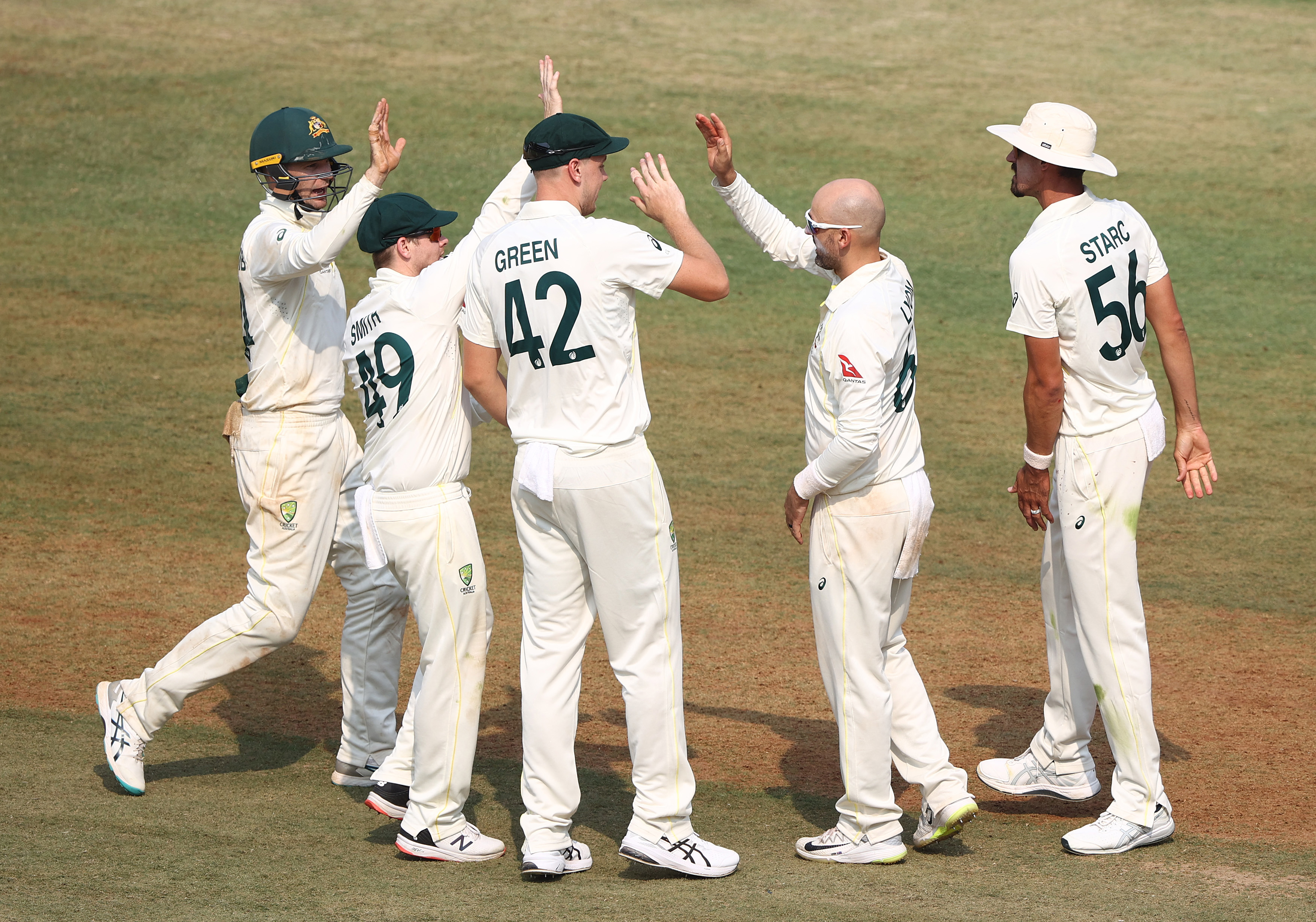 It was Lyon's second eight-wicket haul in Test cricket, with the other also coming against India during Australia's last tour to the country in 2017.
Lyon has now done something even Shane Warne could not manage during his storied career, becoming the first Australian spinner to claim an eight-wicket haul on multiple occasions in Test cricket.
The other three men to have done so for Australia - Bob Massie, Craig McDermott and Glenn McGrath - were all pacemen.
Lyon now has 113 wickets in 25 Tests against India, with 53 of those coming on Indian soil. He has five five-wicket hauls in 10 Test appearances in India.
The second-innings haul gave Lyon a tally of 17 wickets across the last two matches, a sensational turnaround from a disappointing first Test where he was outbowled by debutant off-spinner Todd Murphy.
This time, there was no doubting who was the master in Australia's spin attack, as Lyon wrestled back the momentum whenever India looked to be getting on top.
India's batters tried every method to break out of the shackles, but to a man, almost all of them came undone.
Shubman Gill was Lyon's first victim, with the brash young opener bowled while charging down the wicket.
https://twitter.com/Sports_Himanshu/status/1631256270937423874
https://twitter.com/wutube/status/1631248161330323456
https://twitter.com/ollycaffrey/status/1631240150373244929
https://twitter.com/vikramsathaye/status/1631256105509867521
Lyon then displayed his brilliant variations by getting balls to skid on as he trapped Rohit Sharma, Ravindra Jadeja and Ashwin lbw. KS Bharat was also a victim of a straight one, clean bowled from around the wicket.
Through the carnage, one man stood tall for India, their rock at No.3: Cheteshwar Pujara.
It was somewhat ironic that the two titans who have been written off time and time again, Pujara and Lyon, were the two shining lights in a war of attrition on day two.
On a pitch where none of his teammates have looked settled, Pujara toggled between the gears expertly. He defended with a straight bat when required, played with soft hands when required, and used his feet brilliantly to both rotate the strike and find the boundary.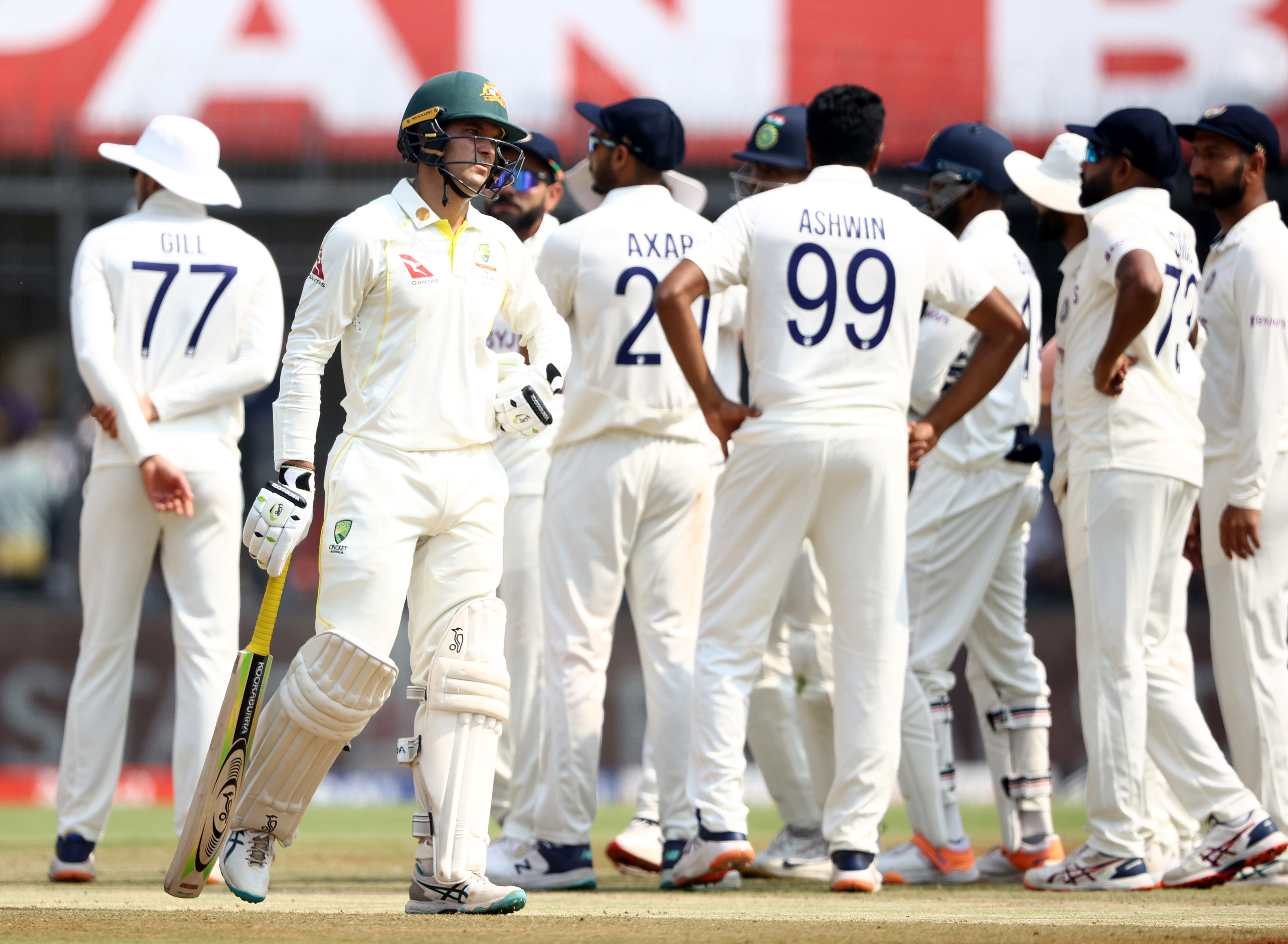 Eventually it took a moment of magic to dismiss Pujara, as Steve Smith took a catch that will be replayed over and over for years to come.
Pujara's dismissal with India's lead sitting on just 67 effectively ended the home side's hopes of posting a triple-figure target for Australia, with the final three wickets falling for just eight runs.
While Pujara admitted that his side's lead of 75 runs was "not enough", India will still believe they can claim the unlikeliest of victories due to the frailties shown by Australia's batters throughout this series. 
Those frailties were evident in the opening session on day two, as the tourists lost their last six wickets for just 11 runs.
Another collapse like that on day three just might doom them. 
For a daily dose of the best of the breaking news and exclusive content from Wide World of Sports, subscribe to our newsletter by clicking here!