Katie Holmes and Bobby Wooten III Take a Romantic Stroll in NYC
Katie Holmes has a new boyfriend. On April 29, the "CODA" actor was spotted holding hands with Broadway musician Bobby Wooten III during a romantic walk through New York City. Between grabbing coffee and doting over strangers' dogs, Holmes and Wooten exchanged a steamy kiss and several affectionate touches, according to People. During the outing, Wooten was also photographed hugging Holmes's mother, Kathy, as people strolled past them on the sidewalk. The newfound romance is Holmes's first since her breakup with Emilio Vitolo, a well-known restauranteur, in May 2021. Rumors of Holmes and Vitolo's relationship first began swirling in September 2020, when the pair were spotted enjoying dinner at a restaurant in NYC. "Their relationship fizzled," a source told Us Weekly. "They figured out they're better off as friends. . . . Katie and Emilio really enjoyed their time together - it just simply didn't work out. She's focusing on being a mom and her upcoming projects." In 2005, Holmes, who is known for keeping her dating life private, began seeing Tom Cruise, who she later married in November 2006. The couple divorced in 2012 and currently coparent their 16-year-old daughter, Suri Cruise. Between 2013 and 2019, Holmes was also romantically linked to Jamie Foxx. Wooten, a Grammy-nominated composer and bass guitarist, recently wrapped his performance in "American Utopia" on Broadway and is currently flexing his music skills in "Moulin Rouge! The Musical." Little is publicly known about Wooten's dating history. Neither Holmes nor Wooten have commented on their relationship. Related: Zendaya and Tom Holland Have Always Shared a Sweet Bond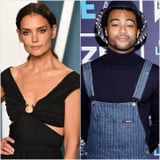 Katie Holmes has a new boyfriend. On April 29, the "CODA" actor was spotted holding hands with Broadway musician Bobby Wooten III during a romantic walk through New York City. Between grabbing coffee and doting over strangers' dogs, Holmes and Wooten exchanged a steamy kiss and several affectionate touches, according to People. During the outing, Wooten was also photographed hugging Holmes's mother, Kathy, as people strolled past them on the sidewalk.
The newfound romance is Holmes's first since her breakup with Emilio Vitolo, a well-known restauranteur, in May 2021. Rumors of Holmes and Vitolo's relationship first began swirling in September 2020, when the pair were spotted enjoying dinner at a restaurant in NYC. "Their relationship fizzled," a source told Us Weekly. "They figured out they're better off as friends. . . . Katie and Emilio really enjoyed their time together - it just simply didn't work out. She's focusing on being a mom and her upcoming projects."
In 2005, Holmes, who is known for keeping her dating life private, began seeing Tom Cruise, who she later married in November 2006. The couple divorced in 2012 and currently coparent their 16-year-old daughter, Suri Cruise. Between 2013 and 2019, Holmes was also romantically linked to Jamie Foxx.
Wooten, a Grammy-nominated composer and bass guitarist, recently wrapped his performance in "American Utopia" on Broadway and is currently flexing his music skills in "Moulin Rouge! The Musical." Little is publicly known about Wooten's dating history.
Neither Holmes nor Wooten have commented on their relationship.