How to Build a Digital Marketing Team for Your Business
If you want to grow your business, a digital marketing team is essential for generating new leads, increasing brand awareness, boosting sales, and nurturing customer relationships.  Building an exceptional marketing team is about more than just hiring people to manage your ad campaigns. Today, consumers have higher expectations from brands, which is why each member of […] The post How to Build a Digital Marketing Team for Your Business appeared first on BenchmarkONE.
If you want to grow your business, a digital marketing team is essential for generating new leads, increasing brand awareness, boosting sales, and nurturing customer relationships. 
Building an exceptional marketing team is about more than just hiring people to manage your ad campaigns. Today, consumers have higher expectations from brands, which is why each member of your digital marketing team should bring specialized skills in different types of marketing disciplines to the table to drive your business forward. 
From content experts and visual design gurus to web development specialists—team members' skills should come together to build a unified brand marketing strategy and achieve sustainable long-term growth through various marketing initiatives.
So, how do you build a multifaceted digital marketing team? Keep reading to find out.
Begin with the makeup of your digital marketing team
Digital marketing is an essential business process for attracting leads, converting customers, and growing your business. The structure of your digital marketing team will depend on the size and budget of your business. 
If you're a startup or small business, you might not have the resources to hire a different person for each job. Consider marketers with a wide-ranging skill set that's transferable across the board. As your business grows, you'll be able to take on more employees to fulfill essential roles as they come up. 
Enterprises will have more scope to hire a larger marketing team with specialists in each area. Whatever the size of your business, it's essential to structure your digital marketing team to align with your business budget and goals. 
Marketing is a highly dynamic industry. As technology advances and consumer demands shift, so do the roles of marketing professionals. So expect your marketing team to develop over time. 
No matter the size of your digital marketing team, make sure communication silos aren't creating barriers to collaboration. The team should communicate with each other to holistically execute marketing strategies. 
Collaboration and communication tools like Slack and Microsoft Teams can be super useful for day-to-day communication. Virtual meeting platforms, like Zoom, can help your team connect while they work remotely. Another option is to bundle communication tools with the best phone systems for small business, including the features you need for your business, like a CRM integration, video conferencing, voiceover IP, or an integration with your workforce management solution.
Start hiring for different roles. 
We've chosen these roles based on what kind of digital marketing expertise a small-to-medium-sized business will need to grow. 
Leadership roles
Just like any other area of business, you'll need people in leadership roles to execute your marketing strategy smoothly. You might hire a chief marketing officer (CMO), Director of Marketing, or a VP of marketing. Whoever you choose needs to be a steadfast leader with organizational and interpersonal skills to manage a team and liaise with other important figures in your organization like your CEO, account executive, and so on. 
Digital marketing leaders must be able to spearhead campaigns to achieve specific goals, delegate tasks to team members, motivate employees to perform well, and report on the overall success of marketing initiatives. This requires leaders to work closely with their team, using synchronous and asynchronous communication channels to connect and collaborate whether working in-office or remotely. 
Content marketing team
Content marketing is integral to any digital or inbound marketing strategy. The content marketing team, depending on your budget, can consist of:
Content marketing managers: They are responsible for overseeing content creation, developing content strategies, implementing editorial content, and ensuring content meets quality standards and adheres with the brand tone of voice.
Copywriters/content writers and editors: The wordsmiths of the group. They write copy and content for an organization's website, landing pages, blog, webinars, resources, email marketing campaigns, and so on. 
SEO specialists: Using their SEO (Search Engine Optimization) skills, they know how to create and implement an SEO strategy to index your website and content on search engines like Google and Bing more easily.
Social media marketers: As of October 2021, there were 4.55 billion active social media users around the world. Social media marketers promote your business over social media. They're also in charge of managing a social media budget for PPC (pay-per-click) advertising and tracking and analyzing social engagement, conversions, and other key metrics.
Your content team will need to collaborate internally between themselves and with other members of your digital marketing team. It's a good idea to leverage communication and file-sharing apps to keep them connected.
​​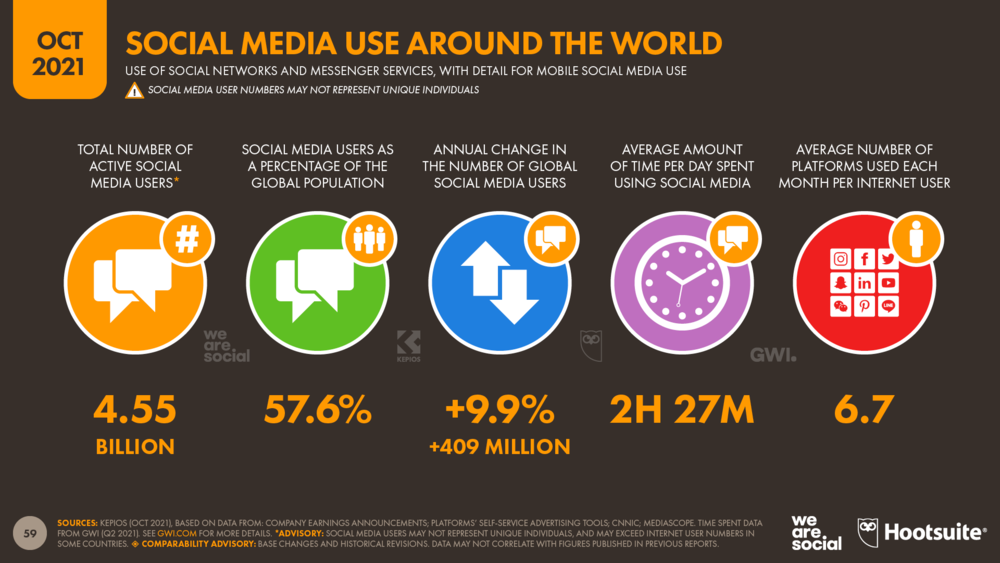 Creatives
Creativity is what makes your brand unique. It's essential to hire creatives as part of your digital marketing team. This includes roles like a head creative director, visual and graphic design specialists, video production specialists, and photographers. 
This team is tasked with creating cohesive brand imagery across marketing channels that represents your organization and appeals to prospects and customers. They know how to create a consistent brand strategy and possess a deep understanding of design principles.
If you're a small business, you might look for someone who possesses diverse creative skills to take on different roles. They should be familiar with web tools and creative programs like Adobe and Photoshop, as well as proficient in brand strategy.
Web development specialists
Having someone skilled in web design and development is crucial. It takes people about 0.05 seconds to form an opinion about your website. It's the face of your business, so website optimization is key. If your site is slow or not optimized for mobile, visitors are likely to leave before they even look around. 
Your web development team is the point of contact for any website issues, and they're in charge of ensuring your website offers a seamless user experience. You'll be able to expand your web development to include senior developers as your business and website grows.
Paid media team
Your paid media team might consist of a demand generation specialist or manager, or digital marketers with experience running paid advertising campaigns. It's a good idea to hire a dedicated team or team member to manage PPC (pay-per-click) social and search ads because it can be a time-consuming job that requires you to constantly refine and update your strategy for best results. 
The paid media team will pay close attention to the media consumption and behavior of your target audience. This way, they can find out what they're buying, which social media channels they're using, and what kind of content they like. Armed with this information, they execute paid media campaigns that boost your online visibility, increase brand awareness, and drive sales pipeline growth. 
Paid media team roles require employees to have extensive knowledge of tools like Google Ads and Facebook Ads. They'll also need to keep up with algorithms across channels, ensuring they're always on top of industry trends and consumer behaviors. They'll collaborate with the rest of the digital marketing team to align paid media with marketing campaigns.
Adopt the right tools to bring together your digital marketing team
Whether your digital marketing team is located in-house or working remotely from around the world, you'll need to empower them with the tools they need to succeed in their roles. The software you need will all depend on your company scale and budget, but a few are essential for any digital marketing team. 
You'll also need robust CRM software to store customer data and help bridge the gap between your sales and marketing team. You should also consider investing in social media tools, SEO and keyword research tools, email marketing software, lead enrichment tools, and so on. 
Outline KPIs to track performance
What is a business process you can implement to monitor the success of your campaigns? Well, setting and tracking KPIs is an effective answer. After all, building a digital marketing team is not a one-off activity. You need to continually track performance, make tweaks to your team set up to keep improving and carry on tracking.  
Everyone should know exactly what they're working towards and what your campaign hopes to achieve. Outline priority goals and generate metrics and Key Performance Indicators to monitor progress and ensure you're on track to achieving your goals. 
For instance, if you're launching a content marketing project that aims to increase traffic to your website, you'll want to measure KPIs like unique page visits, time on page, and engagement rate.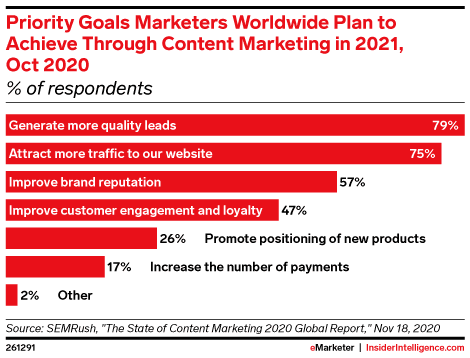 Keep building out your digital marketing team as your business grows
Building a comprehensive digital marketing team as a small-medium business can be challenging. There are so many facets of online marketing that need to be covered. It's a good idea to take a look at your existing team to understand whether they have transferable skills and expertise that can fit in with your new digital marketing team structure. However, always ensure that they're focused on digital marketing to guarantee a cohesive strategy and achievable goals. 
 As your business grows and your digital marketing team requires more force behind it, you can start making additional hires or adjusting the roles of your existing team members. Ensure your digital marketing goals align with your overall business objectives, and make sure they're empowered with the tools they need to communicate, collaborate, and execute marketing campaigns successfully. 
---
John Allen – Director, SEO, 8×8
John Allen is the Director of SEO for 8×8, a leading communication platform with integrated hosted VoIP phone, contact center, voice, video, and chat functionality. John is a marketing professional with over 14 years experience in the field, and an extensive background in building and optimizing digital marketing programs across SEM, SEO, and a myriad of services. This is his LinkedIn.
The post How to Build a Digital Marketing Team for Your Business appeared first on BenchmarkONE.